Have a Question?
Our Opening Hours Are:
Monday9.00am - 5.00pm
Tuesday9.00am - 5.00pm
Wednesday9.00am - 5.00pm
Thursday9.00am - 5.00pm
Friday9.00am - 5.00pm
Saturday9.00am - 5.00pm
Sunday11.00am - 4.00pm
How To Choose The Perfect Living Room Layout
8 Sep 2016, 10:21 AM
There's a very precise art to creating the perfect living room layout. Each individual space is different, meaning there's no 'one-size-fits-all' solution. It's a universal space that plays a hugely important part in our lives, no matter which walk of life you're from.

Whether you want to perfectly position your existing traditional three-piece suite or scatter your eclectic, re-claimed rustic furniture in a way that's still cohesive, these tips will help you choose the perfect layout for you.
Choose Your Focal Point
Whether it's the coffee table, the fireplace, the television or just the centre of the room, you'll need to decide what you want the focal point of your room to be before you can begin to choose and place your furniture. Once established, you'll have a much better idea of how much space you have to play with.
Your focal point will determine how the room feels, so choose wisely!
Keeping Things Social
You can create a more social atmosphere in your living room by simply making sure that all the seating furniture faces inwards in a loose semi-circle. Clustering smaller chairs together and angling them inwards or setting them across from larger seating, like a sofa, is ideal for keeping the conversation flowing. Those with bigger spaces should try to avoid setting their seating too far apart—no one wants to shout across a large space to be heard! Similarly, smaller spaces should avoid the cramped, over-stuffed feeling that too much furniture can give.
The 'conversation area' of your space is
essential for making guests and inhabitants feel welcome. The living room space should be as much about socialising as relaxing.
Making the Most of Small Spaces
Because you'll be limited to how much your space can fit, it's a good idea to invest in more unique, handmade furniture items. Not only are they great conversation pieces, but being able to specify the dimensions will help you make sure you can accommodate the items you want most. Benches that double-up as storage and entertainment centres that house everything will really help to maximise space, without making you feel crowded in.

Lining walls with bespoke furniture pieces, like fitted shelving and cupboards, will not only help with storage but also add a personal touch by giving you places to display your knick-knacks. The secret here is selecting a few, key pieces that work really hard for you.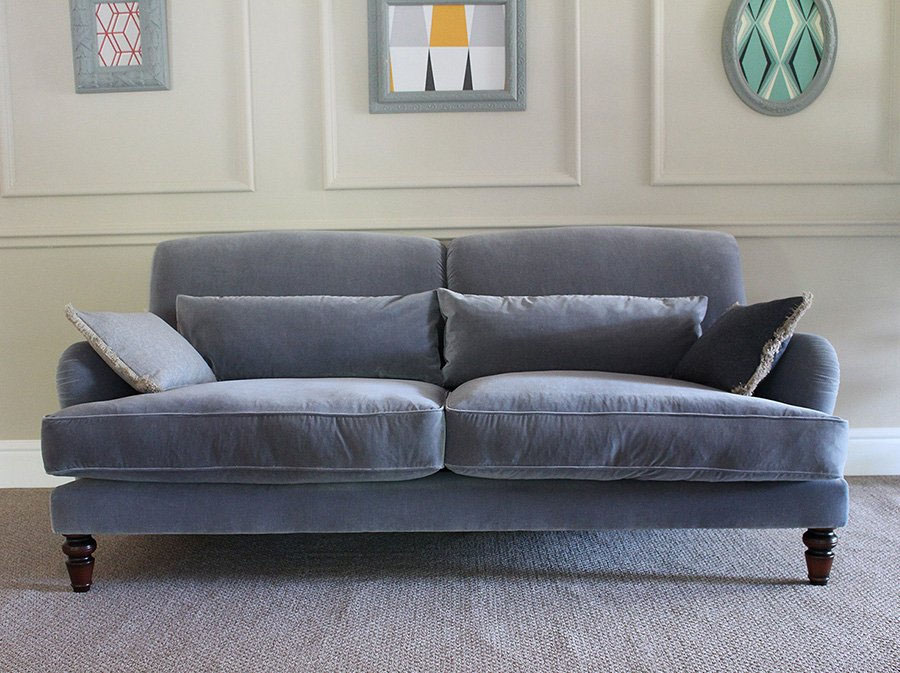 Not all of us have the luxury of a sprawling, airy space with plenty of room to play with. Be a little more inventive with your positioning and choice of furniture to get the most out of your living area.
Making Large Spaces Feel Cosier
While large living rooms can feel very luxurious, they can be incredibly tricky to fill. Too much space around furniture can often make things feel far too sparse when you want to create a comfortable, social vibe. Give your larger living room a more comfortable feel by clustering seating furniture together in small, inward facing arrangements. You may find that adding a table to the space is nice for intimate dining and also gives guests more seating options. Nothing makes a large space feel more sparse and cold than a lot of light colours, so select warm tones to decorate with, and include lots of textures when furnishing.
Selecting warm tones, such as wooden furniture or coloured soft furnishings, will give the feeling of comfort and warmth in your living room space.
No matter how you plan to use your living room—socialising, relaxing or both—choosing the perfect layout is the very best way to create the right vibe and show a little personality while you're at it.