Have a Question?
Our Opening Hours Are:
Monday9.00am - 5.00pm
Tuesday9.00am - 5.00pm
Wednesday9.00am - 5.00pm
Thursday9.00am - 5.00pm
Friday9.00am - 5.00pm
Saturday9.00am - 5.00pm
SundayTemporarily closed
Dining Room Makeover
26 Oct 2015, 1:58 PM
If you have decided to give your dining room a makeover, you may be wondering how exactly you should start.

Here are a few top tips to help you make your new dining room a success.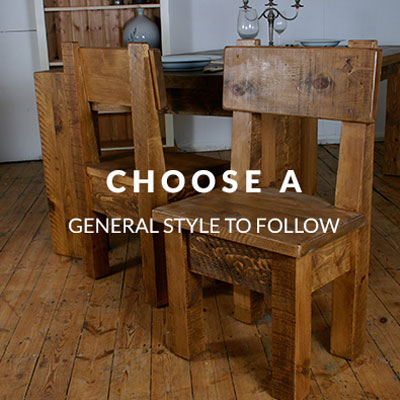 First of all, you will want to come up with an idea about the overall style of the room that you want to create with your makeover. To do this, answer a few key questions, including:
Will your room be used primarily for eating? Is it a place purely for entertaining, or will it be a family room as well? Will it double up as a second living room?
Answering these questions will help you to determine whether to add a TV or not, whether you want a sofa in the room, and more.
Once you have answers to these questions, you can decide on an overall style. Do you want your room to be modern and minimalistic, country style, contemporary, traditional? Deciding this will give you more direction as you start decorating.
You may want to follow the latest trends when you start working on your dining room makeover. Read some style magazines and check interior design websites for ideas to get you thinking. Some of the latest trends for dining rooms include:
Focusing on a rustic but sophisticated feel by investing in a rustic dining table, which can make the room feel more relaxed.
Creating a relaxed outdoor feel by using furniture that you would normally expect to find outside, such as wicker chairs.
Using eco-friendly items and furniture, which could include recycled and reclaimed items.
Using multi-function furniture such as chairs that contain storage units, which will help to create a tidier appearance and avoid clutter.
Also make a point of taking notes of other people's dining rooms. Whenever you visit your friends' homes, see what they have done with their dining rooms and take ideas and inspiration to help you with your own.
The dining room table and chairs are the most important items of furniture in this room, so take your time over choosing these. Think about the other rooms in your home, and try to create a sense of harmony with them. For example, you could match the wood of the table with your kitchen cabinets. The table and dining room chairs can make the room seem more formal or more relaxed in an instant, so make sure they reflect the look you are going for.
If you do not have a large dining room, you can use a few tricks to make it feel larger.
Some of these include:
Make the most of natural light by avoiding large curtains.
Add a mirror to give the illusion of opening the room out.
Place items of wooden furniture away from the walls to create a sense of space.
Draw the eye upwards with a stylish light or an interesting pattern on the ceiling.
Decorate in light colours rather than dark.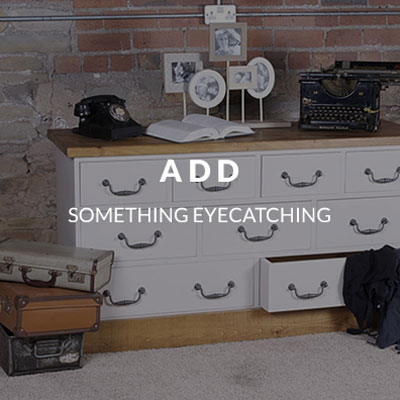 Eye-catching features can help to give your room more of a sense of your unique personality, as well as providing a talking point for guests. This could include a large painting on the main wall, a striking item of furniture or a luxurious chandelier above the dinner table. It could also involve using interesting smaller items like throws, cushions and accents that make the room more interesting.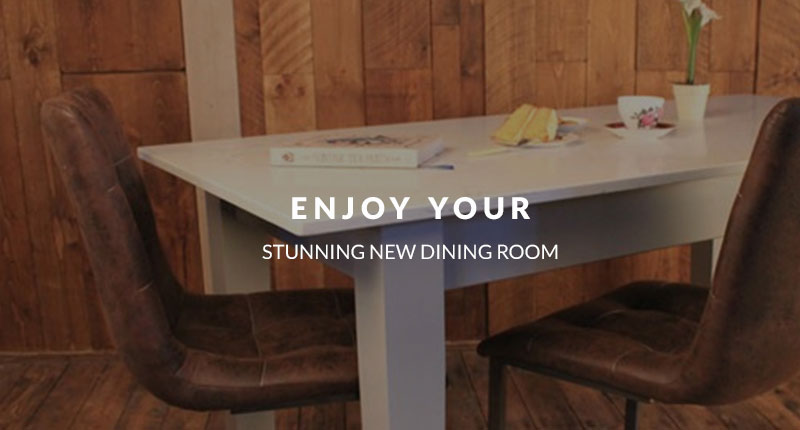 Follow these tips when giving your dining room a makeover to help make your project a success. Remember that your dining room should be a reflection of your personality, so make sure you use the tips but adapt them as necessary to ensure your room is completely unique & you love the dining room furniture you've chosen.